Festive Event on Maui
One of the most popular and festive events on Maui island is the Maui Fair and has been a part of Maui life for 95 years. This year's fair was held in the second week of Oct.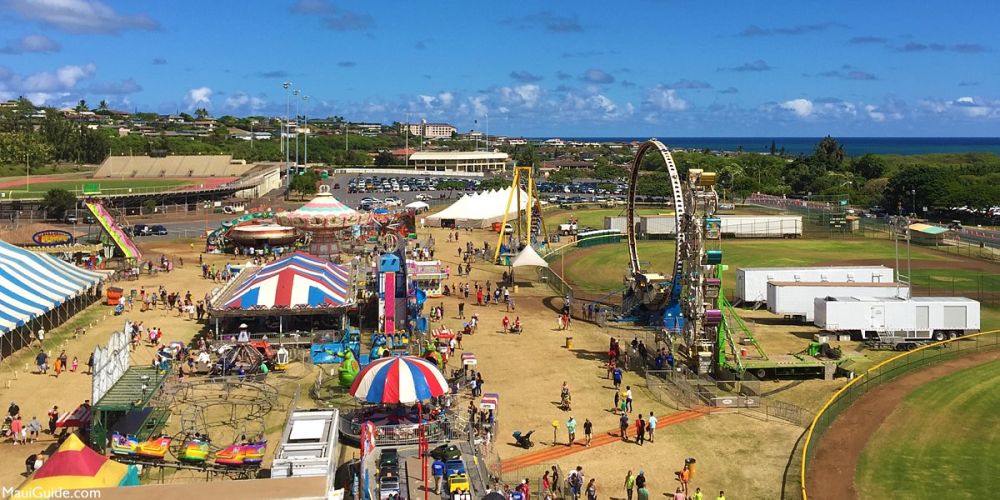 This community event brings family together for a day of eclectic activities in a wholesome and fun environment. The Maui Fair has a rich heritage of big ticket events that has draws large crowds.
The first Maui Fair was held in 1916, well before Hawaii's statehood status in the city of Kahului. The opening ceremonies were kicked off with a 3,000-person procession led by the Hawaiian Band of Honolulu. It was held on 10 acres of land of Pu'unene Avenue. It was established with the purpose of having an event that people young and old would enjoy.
Women showcased their needle work and other arts and crafts. The real attraction was Daisy, Honolulu Zoo's pride and joy 5-ton African elephant, that was shipped over from Oahu. To help provide transportation to the fair, the Plantation Mill employed their large trucks for the task.
After a successful event in 1916, it was not until 3 years later that the next Maui Fair was held in 1919. Aside, for a brief furlough during World War II the fair has been a staple of island culture ever since.
Fair planners were not afraid to put on a show. One of the popular features were the Pa'u riders (female horseback riders) who rode on adorned horses during the parade in the 1930's and 1940's. In 1934, Native Americans were brought to the fair for the Wild West Show.
At one point, a "sham battle" was presented between two infantry forces of the First Battalion, 299th Infantry in 1941 that brought crowds in droves. At some points in history, businesses closed and kids took school off. Employers even allowed their employees to save money directly from their paycheck throughout the year so they could take their whole family to the fair.
Over the course of the fair's history, 25 different sports have been introduced. Some of these include: horse racing, demolition derbies, football, boxing, tennis, golf, baseball, yacht racing, and jujitsu. Over the years there has been a Japanese lantern procession, fireworks, dog shows, beauty pageants, car shows, livestock demonstrations, and baby competitions.
In 1947, Maui had a population of 43,000 and over 60,000 people attended. Today the fair is attended by over 100,000 people and includes the major carnival rides like the popular dizzying "Zipper". The fire department puts on a chili cook off that is all the rage. The Maui Fair is a fun event for people of ages.
Contact me today for information about the Maui Real Estate Market.
The West Maui Specialist
Robert came to Maui in 2000 after thirty years as a business owner in Illinois. He has a passion for real estate and Maui. During his 18 years of representing Buyers and Sellers, he has committed to sharing his knowledge and experience with his clients and spends quality time with them to understand their dreams and needs. Take advantage of his wealth of knowledge in the Maui Real Estate Market to find that special place for you!
I am available to talk with you anytime about your real estate investments, the current state of the Maui market, or anything else related to Maui. The Maui market has been improving and now may be a good time to review your current situation and goals to see if there are any investment opportunities for you. Please call me at

(808) 283-3067

anytime.
Copyright © 2020
IGD Technologies
All Rights Reserved.