Where On Maui?
Maui has long been a destination for sunny tropical vacations and getaways. One gets a taste of island life and a sense of relaxing away from the hustle and bustle of everyday life. Breathtaking landscapes and awe-inspiring views make it nearly impossible not to want to live here. But where? Where in this island paradise should one go?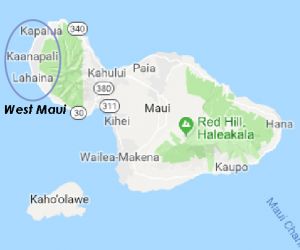 West Maui
The west side of Maui is home to Ka'anapali and Lahaina and makes up the majority of Maui's hotel and resort development. Lahaina is the most populated spot in the area, and provides more lower to mid-range housing options, whereas Ka'anapali is a little more upscale.
The area features 4 world-class golf courses. There is lots of shopping and dining, new condos, hotels, time-shares, and shopping malls – all located just steps from the beach.
Up the coast line from Ka'anapali Beach, is Black Rock Beach which features high lava rock formations and is a popular spot for cliff jumping enthusiasts. Honolua Bay is one of the best places for snorkeling and scuba diving in the summer months and a popular spot for experienced surfers in the winter. There are breathtaking views in all directions.
The West Maui Forest Reserve and the West Maui Mountains are also close by for hikers to enjoy. Kapalua Bay and D.T. Fleming Beach Park are connected by the 1.75 mile-long Kapalua Coastal Trail. Each of these beaches have been named the number-one beach in the United States. In short, West Maui has something for everyone and is an awesome place to live.
The sunny northwest coast of Maui was once a retreat for Hawaiian royalty and the capitol of the Hawaiian Kingdom. Today, Lahaina's rustic buildings recall its days as Hawaii's busiest port, while bustling shops on Front Street and winter whale watching make it a favorite port of call for cruise ship passengers.
A few minutes up the highway you'll find yourself drawn into the vibrant Ka'anapali resorts where a stroll on the beachwalk is always in order. Families play on the beach, shoppers buzz in and out, and diners sit back and simply soak in the view.
The islands of Lanai and Molokai are just across the channel, and as the West Maui sun sets, its rays wrap around the islands, washing the coastline in a magical glow. Which sunset is the best? You'll have to find that out for yourself.
The West Maui Specialist
Robert came to Maui in 2000 after thirty years as a business owner in Illinois. He has a passion for real estate and Maui. During his 18 years of representing Buyers and Sellers, he has committed to sharing his knowledge and experience with his clients and spends quality time with them to understand their dreams and needs. Take advantage of his wealth of knowledge in the Maui Real Estate Market to find that special place for you!
I am available to talk with you anytime about your real estate investments, the current state of the Maui market, or anything else related to Maui. The Maui market has been improving and now may be a good time to review your current situation and goals to see if there are any investment opportunities for you. Please call me at

(808) 283-3067

anytime.
Copyright © 2020
IGD Technologies
All Rights Reserved.